The CEO of IREROBOT, Evagoras Xydas, was interviewed Gold News, a leading business magazine in Cyprus, regarding the company's innovative projects with focus on ACETT, the flagship project of the company. The article was published in the magazine on the 18th of December 2022.
Read the PDF version here.
This Month's Start-Up: IREROBOT's CEO and founder is interviewed by Gold News magazine.
Evagoras Xydas and his team of engineers have been developing a haptic feedback wearable device that transmits sound in the form of vibrations through the sense of touch. When sketching the first prototype, the founder of IREROBOT had the greater good in mind: Xydas wanted to create a cost-effective way to immerse deaf people in the acoustic world.
Groundbreaking cochlear implant technology remains the best way to treat deafness but it comes with hefty lifetime costs, including healthcare, social care and maintenance, while access to implants is limited in lower-income countries. "So, we can provide them with a pleasant, non-invasive access to sound," Xydas notes. "Let me make one thing clear, though: cochlear implants are an amazing and transformative technology that helps a lot of people – just not all people. Also, our device can complement the cochlear implant by improving the whole experience."
IREROBOT's device, called ACETT (Auditory Communication Enhancement Through Touch), picks up sounds in the environment and converts them into vibrations that the users can feel on the palms of their hands. The palm, he explains, is a vast network of sensitive bio receptors, which can be excited to produce a high-definition signal. ACETT also leverages audio-tactile integration, a biological phenomenon in which the auditory cortex is triggered by the sense of touch. From an evolutionary perspective, it is not obvious why the brain might hear through our palms, but Xydas suspects our inability to understand this might be due to our preconceptions, which treat the brain as a constellation of parts rather than a unit. Nonetheless, ACETT can achieve the excitation of hundreds of bio receptors with a single inexpensive actuator, making the device up to two orders of magnitude cheaper than a cochlear implant. "Our approach achieves a more natural feeling with a lot less hardware," he stresses. The glove has three modes: speech, nature, and city. In speech mode, for example, it can eliminate all unwanted noises in the environment, pick up the phonemes of the speaker, and convert them into sound. Xydas recalls donning the glove during a keynote speech at the leading startup summit Slush 2021 in Finland. "There was a lot of babbling and noise. Our algorithm, though, managed to distinguish the speaker's voice while reducing the surrounding sounds," he mentions.
After years of surviving on government grants and Xydas' own cash injections, the startup recently received a healthy €300,000 in seed funding from early-stage accelerator KV Fund, which will allow it to broaden its scope and enter into the highly profitable markets of gaming, virtual reality and mixed reality. "We are already well-fitted to these markets because we essentially create a simulation of surfaces with a haptic perspective. I'm not saying it's easy, but it is a straightforward move and the natural next step," he notes.
IREROBOT plans to take the b2b route since selling directly to consumers would require them to bench-press massive manufacturing costs, while Cyprus' isolation creates logistical migraines. Now, the startup is recruiting volunteers for its clinical trials, which is a step away from the CE stamp of approval – the coveted mark that lets consumers know a product has passed the EU's rigorous health and safety requirements. "We want to have a deal for ACETT by autumn 2023," he said, adding that they have already had promising discussions with various international players in the tech and haptics industry.
Besides ACETT, it has other devices in its pipeline, the most advanced being an exoskeleton that will remove the load from the lower back for the benefit of factory workers and people with disabilities.
"I just want to say that my mission is to create a company that provides opportunities to young people to work on amazing high-tech, projects in Cyprus," he says. "And I believe that entrepreneurs and innovators must all work hard to make the world liveable and bearable for everybody."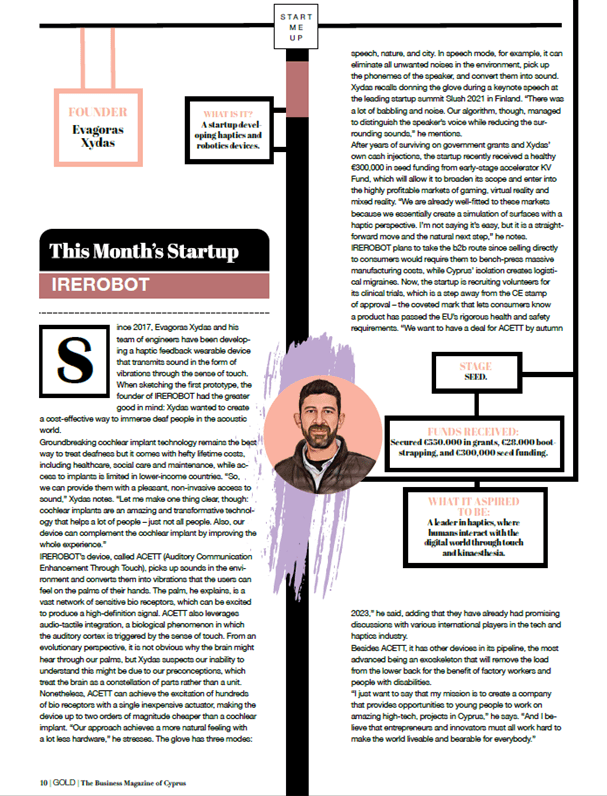 In a constantly evolving world with increasing dependence on technological progress, we aim to establish significant presence in the the global innovation ecosystem, while focusing also on projects that have positive human, social and environmental impact.
IREROBOT's proprietary technology, protocol, and algorithms are the foundations for developing, designing, and building a wide spectrum of interfaces, wearables, and other devices that enable sensory-enhanced experiences. Currently, our flagship project is ACETT, which stands for auditory communication enhancement through touch, and is set to revolutionize the tactile interface industry by enabling natural immertion in the acoustic world for Deaf people, through the sense of touch.
We are always eager to discuss collaboration and investment opportunities that are related to our development and scope.
IREROBOT team